Hi,
I was recently introduced to a beautiful American Indian Dog and have become extremely intrigued by them ever since. My boyfriend, Alan, and I were visiting family in Murrel's Inlet, South Carolina when we came across the most amazing dog. We were taking a walk on the beach when I noticed her in the distance. Being a dog lover and longing for my own dog which I had to leave at home with my brother for the weekend, I was hoping to catch up to the dog ahead of us. So I took Alan by the hand and began to walk more
quickly. As we got closer to the dog, I couldn't take my eyes off of her. At first I thought she was a German Shepard pup. But as I watched her prance through the water holding her tail up high, I realized she wasn't. Then I commented that she looked more like a wolf. Just then, the dog caught sight of us walking towards her and she immediately made eye contact from way down the beach. It was then that I saw her gorgeous eyes; one
turquois and the other a yellow/blue. She stopped walking into the water with her owners and began walking towards me, which after reading about these animals seems a bit unusual, therefore I feel it was fate that this dog and I met. She never once took her eyes off of me until we made contact. She was so receptive towards us and actually jumped up and put her arms in my arms, letting me hold her for a long while while we spoke with her owners. Her name is Isabelle and from what her owners described, I
believe she came from your farm but I am not certain. Nonetheless, we spoke with this family for some time about Isabelle and then began a search on the internet to further our knowledge. And I have to admit that I am very impressed by what I have read about these special dogs and your way of raising and breeding them. I would love to learn as much as I can about them, and visit your farm, if possible, in the future. I try to make an
annual trip to Oregon each fall to visit friends. I feel it's important for me to see the animals in action, so to speak, and speak with you about my personality and lifestyle before making a decision as to whether this is the right animal for us. From everything I have learned so far, however, I do think a good match would be possible. I am curious how often you breed the dogs. And do you think a visit to your farm might be possible in the fall. Keep up the great work, and thank you for making another special moment in
my life possible.
Sincerely,
Tracy Carmignani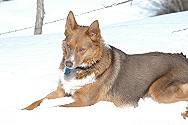 Dear Kim,
I think you're taking testimonials for the AI dogs, and, well, it's a rare moment I'm not talking about some aspect of Topaz! I'm sure my imagesoo belie my passion, my words reflect the life altering impact that she's had on us! I also want to say that I don't care about the politics or the opinions of others, on this issue, other than what you say. We have employed your tough love, even when it was tough on us, and we have a marvelous, outgoing, eager to please fluff muffin (to a point, I'm sure you may have heard some of Topaz' bouts of aggression with some of the younger dogs, and I think I have some imagesoo that prove she is letting some dog know that they are over
stepping her very real boundaries! It's an imperative life lesson, and she has never ever broken the skin on any dog, and she has never been anything but SWEET as cream to all people!
So here's what one dog owner has to say:

Are you looking for a low key couch potato to share some lazy days and chips? Do not get an American Indian Dog! Are you looking for a dog to stick in your backyard and forget about until feeding time? Do not get an American Indian Dog.
Are you looking for the perfect companion animal for long hikes, jogs on the beach and all kinds of athletic activities that require stamina and intelligence? Then get an American Indian Dog! Are you looking for a dog that has a natural grace, is eager to please, and possesses a rare sensitivity? Get an American Indian Dog.
The American Indian Dog is not just rare in it's numbers. It is a highly intelligent, high play drive, speed machine. But that isn't so rare, there are a lot of breeds that meet this criteria. It is the sensitive side of my dog, Topaz, a 2 1/2 year old female, that continues to astound me. She is cuddling and endearing in times of woe, and she is calm and quiet when we are traveling. Her sensitivity seems to be an off shoot from her
intelligence. She is the first in her class at Agility, and our instructor can't wait for her to compete. She is better than her handler! She can distinguish between 7 items, that she can retrieve on command (with just a word prompt - we don't throw it, we just tell her out of the blue to go get it!). She also has a myriad of parlor tricks that we work on everyday. So this is the key to successful ownership, if you think an American Indian Dog is for you - you must keep their brain and body stimulated and functioning!
She has never been destructive in our house; as we have always maintained a high activity level, and it shows. To get the most out of these dogs you should keep them challenged and engaged! Our American Indian Dog is not just a family member, but one of our greatest sources of pride.
If you want to really share your life with a dog, there is none greater than an American Indian Dog, from Song Dog Kennels!
- Denise LeBeau + Edward Fritz, UT
Area Representatives


Dear Kim,
Please forgive me for not updating you sooner. I've been compelled to drop you a note, if short, the last few weeks especially. Sable continues to mature into an absolutely phenomenal companion. I have often thought of you and your remarkable dedication to this breed and again want to pass on our gratitude.
Soon, I hope to send you updated pictures of what is unmistakably, and quickly becoming, the best dog I (we) may have ever known. This is quite a compliment considering the American Indian Dog I enjoyed while growing up in the Midwest and its extreme impressiveness. I have also impressive examples of other breeds to compare her to over my "many" years. Even so, Sable is enjoying her time in Arizona patrolling our acreage, making quite sure the rabbits, ground squirrels, geckos and birds are not "too comfortable". Her loyalty, intellect and instincts are an absolute marvel.
Hopefully you'll remember our interview when you reminded me of this breed's cat-like agility and keen sense of non-verbal command. I had witnessed this previously (with what I still believe to be an AI Dog) while growing up in Kansas, Nebraska and Northwestern Iowa. Sable displays VERY similar characteristics yet appears to have a greater spread of sensitivity and agility. She is EVERYTHING I remembered - and then some - yet uniquely herself. Regularly, from over 600 feet we communicate with one another as if we're reading one another's unspoken thoughts. Absolutely amazing.
You should also know, Sable is quite comfortable in doors or out. She has earned the right to choose when it's cool enough, but we protect her from peak heat time, especially here, outside of Phoenix.. Most people are unaware how comfortable it is here, even in the summer, except for about four hours late afternoon. Sable catches up on her sleep during this time. Yes, she also snuggles up to all of us when we let her up on our beds at night. She is tough to say, "No." to but understands the word or implication if desired. Really, Kim, she's amazing. Thank you beyond words.
In closing, please know your Sable Apache of Song Dog Kennels is well cared for and continues to grow and impress. Just as you surprised us with the wonderful timing of our request (remember the San Diego flight on Taylor's birthday?), Sable continues to surprise and impress us with her abilities, love and loyalty. I might not let you know as often or as in depth as either of us prefer, but God knows, Sable knows and hopefully you will grow to know -- we remain eternally grateful.
My Best to You -- and your extended family,
Dane Collins - and family, AZ

Hello
My name is Donna, I am writing in regards to your American Indian dogs. I had what I believe to be an AI dog years ago, my mother bought it home to me telling time at that time that it was an Indian dog. I was a single parent at that time with 2 small girls and was not at all happy about the new addition given by my mother but she was so cute I gave in. Mesha turned out to be the best dog I ever owned. She was killed in an accident about 9 years ago. I initially tried to replace her with a wolf hybrid, thinking that they would be similar in temperament that as I am sure you know, was a big mistake. I gave up residing to the words of those around me saying Mesha had only been a mutt.
It was last November as I searched the internet that I found the breed on the Dog Breed information page, the words from my mother came running back "they said she was an Indian dog". My heart jumped as I knew that this was the type of dog Mesha had been. Mesha was a black and tan with blue eyes just like Tracker listed in your gallery. She was not however overly active or at least that's not how I remember her to be. We lived in the country when I got her though, so she was free to go and come as she pleased, I only remember her following the kids everywhere they went, she didn't do well in cars (motion sickness), she was not vicious but did become protective as she got older she seemed to have a sixth sense about people, she house trained herself and was content to stay around the house with the family. She wanted to be where we were. Mesha had no doggy smell and shed little or no hair.
I want to purchase a puppy as a companion to myself. I am an RN and will be doing some traveling with my work in the next couple of years as my children are graduating. I don't want a hyperactive dog that constantly paces or runs away like huskies tend to do but rather a friend that will be happy to be with me. The dog will stay inside with the family and will have a run that is aprox 20 ft when outside unattended. We live about 1 mile from the beach and have lots of parks in the area and I need a jogging companion.
Do you have any dogs with a temperament like Mesha's? When is your next litter? Would I be a candidate for a puppy? I am very partial to females and runts for some reason I think that they make better pets. We would want to fly out to pick up the puppy as my husbands mother lives in Oregon. Upon viewing your site my favorite dogs were Ghost Dancer, Woni Shunka, Tracker, and Kowi. I know there is not a guarantee in colors but after so many years a breeding I am sure you have an idea which dogs produce which pups.
Thank you so much, I look foreword to hearing from you.
Donna

Hey Kim, I finally got onto the IIDOBA chat group, & have been listening, & will post pictures & introduce myself soon.... Hozho & Sundance are a part of my Mandela (tribal configuration) now. I can't really remember life before they arrived. All in all the key to being alpha is to be authentic. The genuine article cannot be imitated & they know it. One either is in tune with Spirit or not, you get it or not. It's as simple as that. The beautiful thing is that if one is naturally oneself, that is to say being human, they LOVE to serve you, you become one with them...The Rasta I told you about months ago wants to get a pup& Suzie wants one of her own. I envision a pack someday, slowly but surely as I move into my "Kingdom" on earth. The horses are another level altogether...symbols of manifest freedom.....The pups are a dream come true...I'm already richly blessed by their compashionship along the beautyway. Your work has many dimensions to it....Keep under the rainbow, the pups are so smart, their house training is going really well....I watch Hozho (a Navaho word for "the beauty way") the Alfa female & Sundance all day long, learning......I feel so blessed to be growing in spirit with such fine animals, thank you for pioneering the preservation of a "lost awareness"-innate wisdom in domesticated dogs.... loved seeing your dogs in the beautiful environment they live in...Peace, Johnny

I am American Indian and have worked with many Native organizations and Elders focused on the protection of Sacred Sites, Native Rights and the return of Ancestral human remains and objects. The results of this work included the restoration of native flora and fauna to numerous sites. For over 20 years I have studied with archaeologists, anthropologists, ethnographers, biologists and ethno botanists in central and Southern America and Canada. I have worked at a wildlife refuge for several years where we rehabilitate native wildlife for release back into the wild. My experience also includes working with large cats around the world. Our expert care for these animals comes from veterinarians that teach at universities and as well as health, have a good knowledge of genetics too. I live with my family on 50 acres of land formally designated as a sanctuary where we grow endangered native plants; plants used for medicine, food, ceremony and fiber and dyes for traditional basket weaving. The land is also a release site for animals that have been rehabilitated. Many scientists, scholars, wildlife experts and veterinarians frequent the sanctuary. There are on site classes enjoyed by Native and non-native people. Many Elders in the Indian communities teach and tell stories. Many stories are told of our indigenous dogs. Our American Indian Dogs that make the sanctuary their home have been a focal point for all that come here. They have a symbiotic relationship here with both animals and people. We are all grateful and honored to have them still here with us.

Dogs have an ancient history all there own. The modern breed registries and most breeders have conveniently forgotten the varied genetics all dog breeds have and how important paying close attention to genetics can be for the future of any animal. Many people unhappy with the multitude of health and emotional problems related to "pure" AKC type or "exotic" breeds are now seeking out a healthy dog breed; (The American Indian). Pervasive in western thinking is that all life is homogenous, the same, sameness is a virtue. They need to isolate and label the AKC types in order to understand them and put them in categories. Veterinarian's opinions vary on treatment and care, trainers on discipline and training. All these same political opinions have even involved our American Indian Dogs. Beyond scientific theory, doctors and technology (where scientists must remain detached from there subject matter) ; exists the wisdom of the Elders in the American Indian communities throughout North and South America. Indian people are taught and do this naturally; to participate, interact and experience life and their surroundings, regardless of profession. When the Elders speak of harmony and balance it is energy that radiates throughout the Universe. It is a movement that is always evolving, shifting and always changing. Many tribal people have moved to new locations environments, intermarried and exchanged stories and knowledge, medicine and cultural traditions. Some of this knowledge and traditions have survived the worst of adversity. Elders still continue to pass on this knowledge to those honorable enough to receive this precious and guarded wisdom. Kim La Flamme has been accountable not only for his breeding practices but also to the Elders, who have guided him with their knowledge. Kim La Flamme has chosen to share his life long work knowledge and his dogs, an achievement accomplished with dignity and dedication to preserving our American Indian Dogs.

What I have learned from scientific experts is that relatively little research has been done on our native dogs. These studies are in their infancy. To the lay person it might appear that substantial studies have been done. The scientific theories on this subject by numerous disciplines, not only vary; but are very contradictory at best. Many studies have failed to even answer some very basic questions. Evolutionary biologists have bitterly disputed what constitutes a "Species". Some of the latest research suggests the domestication of dogs was an event that happened several times in deferent parts of the world. These domesticated dogs may have bred again with wild canines and were then again domesticated. There is NOT a collective view or opinion from "scientists" or "veterinarians" on American Indian Dogs. . Diversity among the human species is hard enough of a concept for many people to accept or respect let alone the genetic variation of dogs. I hope the irretrievable loss and lack of respect of these dogs in the past will not continue in the present fueled only by ignorance and misunderstandings. Different world views colliding define the conflict surrounding the American Indian Dogs. One very important thing to remember, to quote Kim La Flamme ; "The only thing that matters is that the American Indian Dog breed is simply the closest thing we have left on this planet of our old Indian Dogs, and the healthiest dog breed, both mentally and physically, and if we can maintain control of our own breed, it will remain that way, plane and simple."
Cindy Bloom. Chicago IL.