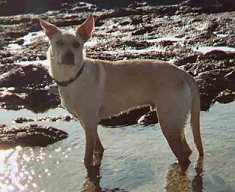 My journey with the American Indian Dog began with a "ping" from my girlfriend Tricia. She simply stated, "You got to see this dog"! I took a look at the website she provided, and there he was, later I found out he was Tonka, The American Indian Dog. This picture and description of the breed were not even from Kim's website. It described the American Indian Dog, its sizes, its temperament, its health issues (which there were none), etc. I knew I had to take a closer look, and explore more for myself.
I had been looking for a dog that was similar to a Siberian husky or a Malamute. I initially loved them simply for their looks, but didn't know much about the breed. Tricia had owned a Siberian husky. It met an untimely demise, being hit by a car. She told me about her relationship with her dog. She told me they were bred for running, pulling a sled. Instinctually they will run from their owner in that drive to pull the proverbial sled. I wasn't sure if that was the dog for me even if it did look good.
The other dog I have fallen in love with time and time again is the Golden Retriever. Unfortunately, this breed has been bastardized by the unfaithful, money hungry AKC. Most of them are loveable, but neurotic as hell.
I dug further into the American Indian Dog thing. I read Kim's website, ordered the books available from the website, saw the pictures, etc. We lived in Colorado at this time and rented. We lived in the same house as the landlord. They had one of those loveable, neurotic, people hungry, Golden Retrievers. We wondered if the American Indian Dog would fit into this structure. The data I had read said yes, but that was just data and not real life. We knew the environment was perfect as the house backed up to thousands of acres of open space. There was tons of room to teach and let a dog live.
Tricia had been pressuring me to call Kim. It took me a while to build up my confidence. After all, I would be talking to a man who has spent approximately 30 - 40 years around these dogs. Would he accept me as a potential owner? Would we be able to do right by this living creature? I don't know if Tricia or I could handle being rejected. We really had built up quite an excitement for the American Indian Dog. I came home from work one day and decided to call Kim. We talked for about 45 minutes. At the end I asked "well when do I need to do the interview to get on the waiting list?" He said, "We just did it. You can get on the list anytime." Tricia, like an expectant child at Christmas, asked, "Well, what did he say?" I said we're in! She jumped for joy, and we did the happy dance. Now we just had to clear this through the landlord. I asked the landlord the very next day. She said, "Let me think about it, and touch base with me next week." The next week we touched base. The verdict was not at all what we wanted to hear. It was a hesitant no. We were, to say the least, seriously bummed. So for two years we waited……….
I took a transfer to California towards the end of 2002, the Bay area to be specific. It was at this time we knew we could get the American Indian Dog. We called Kim, who at this time had forgotten us. I don't blame him. It was two years after all! We re-interviewed. Our biggest concern now was we lived in the city. It was not as easy to train and let a dog run free. No backyard and a one bedroom apartment, but we were up to the challenge. We took our first trip to Kim's in April 2003. We put our deposit down, and were officially added to the list. We met several American Indian Dogs on that trip. The hearty and well built Rogue, much like the river! Strong, father to many children, Kim's right hand man, and throws that hip like an ole NHLer. Be prepared! Another was Arrow. All I can say about her is the eyes. She will devour your soul with those eyes, and make you melt. Of course there are many other qualities of hers that would make you melt! I knew at that point there were the dogs we had read about on Kim's website and in the books we had ordered. They were exactly what we wanted. They had the perfect size, and the perfect temperament. We met several other American Indian Dogs on that trip: Tonka, Mouse, Bull, Ghost, Dancer, and several others. We did not know at the time, but inside Arrow was growing our pup!
We went back home two happy campers. We were ready to settle down to another six month wait. Tricia called me at work on day breathless. I asked, "What the hell you been doing?" She said, "Kim just called, our pup is ready for us to pick out." Needless to say, we packed our shit and headed north to the hills of Southern Oregon. The day had come! Two and half years later, we were getting our puppy.
Kim put us up in the fifth wheel behind his house. We were living, eating, sleeping, and breathing the realm of what these dogs call home. The next day we went to the kennel. There were three black and tan pups, and three reddish cream pups. He said, "Your pup is in there." We took the three reddish cream pups for a hike. Hilarious to watch those three little butts waddle ahead of us. We came to a pond on the property, and decided we would stop here. One pup charged into the water, swam out, and got caught in the reeds. He later became Beaudy, Beau for short. He is Kiowa's brother, and lives up on the farm. The other pup decided to investigate the bushes. He eventually went to someone in upstate New York. Our pup Kiowa Sage after some initial investigation decided to curl up in Tricia's lap and sleep the long walk off. We knew at that moment he was ours. It was just a matter of keeping them straight.
We left that weekend with puppy in tow. Tricia drove the first stretch and I hung with Kiowa in the back seat. He looked up at me, and crawled up in my lap. He put a paw in each shoulder and laid his head next to mine looking out the back window towards home. I knew what tossed through his mind. Will I ever see this place again? Will I ever see my mother again? Will these people be good to me? Let the training begin!
We let Kiowa have his way the first week, and he proved Kim right! Without tough love and alpha guidance he would be a terror. We buckled down for the long haul. This meant Tricia and I coming to terms together on the right approach on training Kiowa. It made us look inside each other, and measure our merits as the alpha leader. Kiowa is now over a year old. Through many trials and tribulations he has become exactly the dog we wanted. Tricia and I made a decision that he is my dog for the most part. I am alpha, Tricia is alpha / beta and Kiowa comes in third but not last. He is well-rounded having been in many different situations, loves the ball, Frisbee, and any other thing he can fetch, sleeps in late, explores the woods, and lately has become interested in chasing squirrels. Our adventure together has just begun. The bond we have is growing as we learn together and continuously teach each other. It is a kindred spirit built on respect, tough love, and alpha guidance. Its unconditional love as all dogs and some humans are capable of!
I want to close by touching base on the political mumbo jumbo Kim has to deal with on a daily basis. Every day he has to fight to prove his dogs, prove his heritage, and prove his existence is American Indian. American Indian is not simply blood. It is a state of mind. A state of being. I feel I am American Indian even though there is only 1/64th or less of Indian blood that flows in my veins. I respect and love my mother earth and all her children. It is through them that we gain wisdom and insight into the way things should be. If you let your spirit be to explore and learn from the vast amount of possibilities offered from the spirit that flows through all things, you will see differently, act differently, and be different. A new light will shine within you. Not many people will understand, but that is the way to be American Indian.
Kim,
Thank you for your hard work, your determination, your undying and uncompromising spirit. You have saved a dying breed, and brought it back from extinction. Thank you for not bowing down and giving in to those who would see this breed bastardized by the AKC. It is their greed and the green dollars that drive them. They will never understand what it is like to look into the eyes of an American Indian dog and see the world before them. Full of hope, full of passion, full of life!
We believed in Kim so much, we now live in Southern Oregon. Tricia works for him, and Kim's father. I have the grueling schedule of still working in California and Southern Oregon. Kiowa shares his time between the country of Oregon and the big city of California. For most AKC dogs it would be utter chaos, as they need a very specific routine to get along and survive. That neuroticism alive and well! For Kiowa or any other American Indian dog its part of the routine. They go with the flow, and through tough love and alpha guidance on the part of the pack leader, their pack will persevere!
If you feel the need to talk to me about this breed or my testimonial, please feel free to contact me at dshawn@frontiernet.net or 408-203-8357.
Thank you for your time!
Sincerely,
Derek