Ordinarily, I would not even respond to abhorrent political gossip; however, I feel compelled to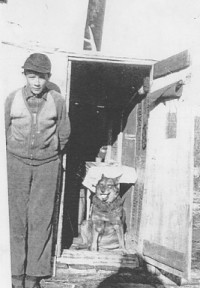 An example of some American Indian Dogs, called 'Camp Dogs', that were found in the 1930's on and around reservations in the northeastern U.S.
---
*camp dog pictures courtesy
of Laura Gould
address the untruths being distributed by four former breeders who have chosen to maliciously attack my lifelong work of protecting and breeding the American Indian Dogs. These breeders have been permanently removed from the American Indian Dog (aka A.I. Dog) breeding program, American Indian Dog registry, studbook and International Indian Dog Owners and Breeders Association (IIDOBA) for their unethical breeding practices and violations of our Code of Ethics which, they had previously agreed to uphold and stand behind.
I have worked to keep the A.I.Dog out of large dog registries from the beginning. I chose to not have the A.I.Dog subjected to the health issues, inbreeding and over population that has taken place because of groups like the AKC as well as other large registry groups, that take away the control from the individual breed clubs. As a matter of fact, one of these former breeders attempted to overtake the breed club in order to force our breed to become a member of the AKC. It is my opinion that the A.I.Dog is not a typical breed and does not belong in these types of modern day registries. We have even incorporated into the Code of Ethics that the breed will never be associated with such a registry.
This breed is very healthy because of the strict control that has been instituted from the beginning of the breeding program. Over the past 40 years, I have interviewed hundreds of Elders who remember the original dogs and the breeding process of the old ways. It is because of these interviews and research that I have come to understand that each Nation had particular individuals with extensive knowledge of the genetic makeup which was passed on to them by their Elders. This knowledge was never questioned as it was very natural and logical and kept the variables (different qualities and/or types within the same working breed) of hunting, pulling, herding, tracking, retrieving, nurturing and other traits that were dependent on what each individual Nation needed.
The Plains Indians had a need for all of these qualities as they traded with all the other Nations from the Four Directions, thus creating a very eclectic and symbiotic, all around working dog which included the Common Indian Dog, the Hare Indian Dog, the Northern Village, Southwest, Tahltan, Southeast and Plains dogs that they, in turn, traded back again. This method of breeding and trading continued for thousands of years creating basically the same breed with those variables from the Four Directions.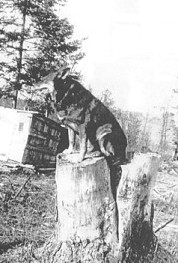 Another example of an American Indian Dogs, called 'Camp Dogs' at the time
To bring this same breed into the 21st century, to survive and adapt to life as it is today, takes multiple combinations of both maintaining the old ways and selectively breeding the A.I.Dog to fit with the appropriate owners that are open to learn from, teach and appreciate this breed for what it was and is today. This includes maintaining the appearance, personality, original survival instincts, the ability to be trained, to be both loyal, happy and maintain an energy level just like the original A.I.Dog. This is not an easy task. For these reasons, control of the breeding program is of utmost importance. Particular bloodlines, personality types or individual dogs that are to be used in the breeding program is completely at the sole discretion of the Founder/Trustee, President of the A.I.Dog registry and President of the IIDOBA.
Genetic knowledge is paramount in maintaining the makeup of this breed of dog and is not open for question nor debate by individuals without this knowledge. To see an example of uninformed and uneducated individuals with personal agendas, you are invited to compare the 'statements' of the four exbreeders on their warning site to the "Owners Opinions", "Testimonials" and "Happy Owners" of over 400 owners on the indiandogs.com, iidoba.org, and on true registered A.I.Dog web sites.
These individuals who lack the knowledge of genetics, breeding or "The Old Ways", took it upon themselves to attempt to change the breed by adding wolf and/or coyote to the bloodlines or by breeding the wrong personality types together. The results of their lack of knowledge also led them to blame either the Founder/Trustee or the A.I.Dogs themselves for their own refusal to take responsibility for their actions, as well as their lack of training in animal communication. This created an inability for them to properly qualify future owners which in turn caused the need to establish a rescue situation for the IIDOBA Breed Club. This should never have been necessary for this breed.
The A.I.Dog is an extremely intelligent breed and, at times, can be smarter than their owners. As I have pointed out numerous times, this breed is NOT for everyone. Potential owners are interviewed to determine their animal communication skills and capability to provide a loving home. Some of these individuals even took it upon themselves to breed brothers to sisters along with father to daughter, mother to son as well as the same personality types and bloodlines. The animals were bred for the personal agendas of these particular individuals instead of the good of the A.I.Dog breed. This is not an acceptable breeding practice when attempting to save a breed. The inbreeding of any animal breed or species can produce animals with genetic faults. The large registry groups, such as the AKC's modern type breeds are known to display at least 10 and as many as 30 genetic problems per breed. We certainly don't want this to occur with the A.I.Dogs, thus another reason for following the old ways and adhering to the strict controlled breeding program that has been established and maintained by the Founder of this breed.
If you have a desire to help save or improve a breed of dog, please choose one of the other breeds that need the help. The A.I.Dog has been saved, and is doing very well, thank you. - (Please see the owners opinion page and/or testimonials on www.indiandogs.com as well as www.iidoba.org ). - For other informative books and articles on genetics and the correct procedure to be followed to preserve a rare breed, go to the article entitled "Dog Games",
American Rare Breed Livestock Conservancy
website and the International Progressive Dog Breeders Alliance (IPDBA) registry site.
The fact that each owner feels their A.I.Dog is the smartest, best looking of the breed and should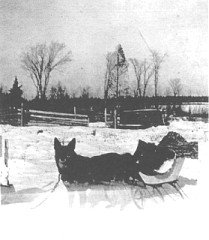 Another Camp Dog pulling
a small sleigh
be bred can also lead to problems with backyard breeders. We are pleased that each owner feels so strongly about their particular pet but this is not allowed. It causes political problems and improper breeding practices that create a dog that is not a true representation of the breed. The fact that someone has a female and someone else has a male is not the answer to saving a particular breed. Overpopulation is the major cause of the deterioration of any breed. Quality, not quantity/form follows function/variability within a breed. All these facts are addressed and strictly maintained at the registry, stud book level and the best breeding quality bloodlines and individual animals are evaluated and kept before any leave the kennel of certified breeders. Be sure you research the true registered A.I.Dogs as well as those that 'want to be' and owners of both, before you make your final decision when purchasing an animal you will be spending your life with.
I hope I have succeeded in clarifying the facts and have ended the confusion that was created as a result of the website created by these four uninformed individuals. Actually, this site has helped to provide us with the opportunity to discuss what sets our A.I.Dogs apart from other breeds and separates the pro-AKC types from the types of people we enjoy having as our family of happy owners.
We invite you to call for more information on the breed, and to contact a knowledgable owner/representative in your area, that is more than willing to share their own experience with their A.I.Dogs. Please visit the following websites
www.indiandogs.com;
www.iidoba.org
or
www.ipdba.k8.com
Kim La Flamme, Founder/Trustee