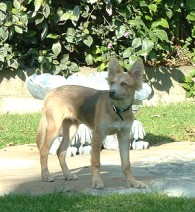 Hi Kim
I have had dogs all my life and never have I had a dog like my American Indian Dog, Wa Ya. I can only describe his movements as catlike but resembling a coyote. His intelligence is not to be believed. He has a
certain "wild" or primitive personality. The intensity of his stare with his light blue eyes is intense and he is unafraid of looking me in the eye.
His nature is extremely sweet with no hostility evidenced whatsoever. His
playfulness and happy personality are joyous. It is extremely hard not to
constantly watch him because of his incredible agility. The bond we share
is indescribable and I know it will only grow as time passes. My Cherokee
ancestry called out for a special animal to share my life with and in Wa Ya,
I have found him. I am incredibly lucky to have found such a friend.- Karen
K. Knight


Hi Arlene and Kim,

Just a short note to let you know how absolutely delighted we are with our little Spiritt. He is such a joy. He is everything we expected him to be. That is not to say he isn't a bit of a brat now and then.

We are also amazed at how similar he is to our previous dog Maia. There is definitely some instinctual residual memory from his previous life in this house (like going to an area to get out where a doggie door used to be). So, thank you ever so much for your help in reuniting us with this special being. I will be posing photos of him on the IIDOBA site as he grows. If you would like, I will forward any particularly good ones directly to you. I know you must get tons of photos with over thirty new pups out there now. I do not want to overload you.

Thanks again, Marie & Robert

Hi from Nova Scotia !!

Hi Arlene,
just wanted to drop you a line (You check your email quicker than Kim .. ha ha), and let you know that I just got the pictures developed of Hemi and I'll be sending off the registration papers and a picture of him this week.

He's absolutely adorable. He's has made himself quite at home here, like he's been here forever. Sleeps in the bed with me (takes up alot of room) and he has a ball ! We are so happy with him, and Kim was right about walking him... everyone stops and asks about him !! He's in obedience training and doing very well.

His personality is fabulous and he certainly knows how to be the center of attention !! Everyone falls totally in love with him when they meet him and he's extremely well mannered and listens very, very well. (Wheww .. thank God !).

I don't know when my sister is planning on getting one, They're getting their house mid December so she's trying to figure out the best time to have a pup, so she'll have lots of time to be with him. Keep hold of the $85. until she makes up her mind, if that's okay .

Well, off I go.. He's sitting beside me waiting for me to finish up so we can go for a walk.

Take care and I'm sure I'll talk to you soon.

Thanks to both of you for all your help, I know it was very frustrating trying to get him here to us.

Amanda Kublek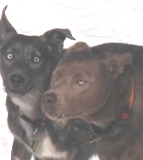 hello kim and everyone else out there fernando from n.y. here.i haven,t written in for quite some time but i find the discussion to juicy to pass up. i think for people who want an A.K.C. breed that's just fine, but for me and my family these dogs cannot be compared to anything else. it is a testament of kim and arlene as human beings and to kim's ability to breed an animal that is truly unique. now with that said it doesn't mean that thay are not animals(dogs)and like other pack animals they respond to a hierarchical (ican't believe i spelled that) system. in the dog /wolf/pack world these creatures respond to a strong and absolute authority any deviation shows weakness, very much like what i see in my 15 year old. just like i see many parents afraid of being tough i see the same thing with people and their dogs. idon't beat the crap out of my children or my two wonderful dogs but neither do my wife and i pussyfoot when we want something our way. people,dogs and liquids are always looking for the path of least resistance, and so discipline must be taught,sometimes soft sometimes hard. these dogs are tougher and trickier than many people realize and that's just fine with
us because i think it shows great spirit,humor and intelligence.as an example hako was staring to bark with too much frequency and it was getting annoying. my wife and stopped this behavior by showing a combined effort and by giving him strong grabs to the neck whenever we felt he was doing just this out of rudeness. keep in mind these neck grabs were and still are not gentle reminders, they are done with a strength that demonstrates what the alpha wants. just my 2 cents.........fernando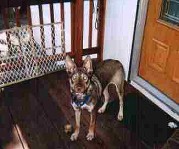 Kim
Hau I have'nt been on the group much,but seen your post about the aids and akc all i have to say about it is this let them go to the REZ and ask some of the old timers about the dogs and see what they say.A few weeks ago i went to pine ridge to see family and had Mesu with me,and showed him to a elder he said that he new these dogs and showed me pictures of him self and Grandpa Frank Foolscrow and in between there was a dog the looked just like Mesu. Just had to let you know this. Keep up the good work
tokas
Two Feathers

Healing Dogs

I AM JUST TOTALLY AMAZED AT WHAT THESE DOGS DO. MY AID'S NAME IS CHEROKEE AND ONE DAY AFTER WORK I WAS NOT FEELING WELL AS I HAD CHILLS AND WAS COLD-I WENT TO BED FOR A LITTLE WHILE AND CHEROKEE JUMPED UPON THE BED AND I TOLD HIM DAD WAS COLD AND I PUT MY COLD HAND ON HIS BACK-HE GOT UP AND LAID CROSSWISE ON MY CHEST-I WAS AMAZED THAT HE WAS TRYING TO KEEP ME WARM. IT'S ALMOST LIKE THESE DOGS THINK FOR THEMSELVES AND TRY TO REASON.HE'S ONLY 7 I/2 MONTHS OLD.