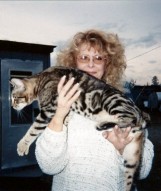 As the secretary/registrar of the American Indian Dog Registry for the past 7 years, I have come to know Kim LaFlamme as no one else has. I have seen first hand his dedication, and devotion to the AI dog.

I have been a breeder for more years than I care to count; I started in 1960 with Afghan Hounds. I showed my dogs at Westminster in Madison Square Garden, and know what happens to a breed when it is recognized by a big registry. Believe me, nothing good has ever come of that, only the destruction of the breed along with increasing of genetic faults. I have bred Dobermans, as well as Great Danes, Arabian Horses, and Desert Lynx cats. I have learned so much from Kim about genetics, his knowledge never ceases to amaze me.

I have witnessed the anger of the " want to be breeders" who have no knowledge of breeding or genetics. Their only interest was to make money, and if they destroyed the breed along the way to "their" goal, it did not concern them. In my opinion, since they can not achieve what Kim has achieved, then they will try to destroy what has been his life's work.

Kim is a wonderful fair but firm pack leader. Every dog loves and respects him. When new owners follow the directions Kim gives them, they wind up with a wonderful dog. If they want to take the advice of people who have no knowledge of this breed, they have problems. But isn't that the way of life? Let's stop for a moment and take a look at the little yappy dogs people have spoiled. They are mostly the kind people carry around in their arms.. Toy Poodles, Yorkies.. etc. They are the ones that are always barking and snapping, and biting people. These dogs are spoiled! Plain and simple... You can not allow a dog to do what it wants, and not reprimand it. Kim has a gentle but firm way about him, and applies it to his training.

I have met some of the "Sour Grapes" who wanted to breed in Wolf and/or Coyote with the AI dogs. Kim has never done that and never will allow it to happen, as coy-dog's and wolf-dog's are NOT Indian dogs!! I have seen Kim donate many dog's to reservations to help educate the children, dog's have been donated to Drug and Bomb dog training centers, Police and many others, with out thought to any monitary compensation. I have seen Kim take in dogs and board them for neighbors who are out of town. I have seen him study many breeds. Just because a dog breed is on his property does not mean he has used it in his breeding program. I moved to Oregon 7 years ago with my last remaining Doberman, "Maxx". Maxx was neutered at a young age, and still some of the x-breeders make statements that Kim used this dog in his breeding program. That is how ridiculous and false their claims are. I say, what ever dogs Kim found to save and recreate this breed is of little importance. They are what they are, and "the proof is in the pudding".

It has taken me the full 7 years to just start to understand the complicated genetics involved in Kim's breeding program. I continue to learn every day, as this is knowledge he has had for over 40 years. Some people think they can learn the different bloodlines in a matter of days or weeks. They are so wrong and quickly learn they are wrong. It's when people realize how much is involved with keeping this breed genetically healthy and mentally instinctive that they give up and blame Kim for their own inabilitys and failure. It is a sad case that these few individuals have stooped to the level they are at. Keep up the wonderful work Kim, it is appreciated by many, many people.

Arlene Magrino
Secretary/ Registrar; American Indian Dog registry

President of International Desert Lynx Cat Association

International Judge for IPCBA

.Dear Kim;
Here is something for the owners opinion page:
My 3 A.I.dogs have impacted my life in a wonderful way. They are highly sensitive beings in many regards. They share tremendous energy and curiousity. One feels their awareness of your energetic state and a tremendous sympathy. Never the less between the 3 there are marked differences. Sundance,the alpha male is white with blue eyes. He is very attentive to me on our walks and protective. He has learned to stay close while the other 2 romp,choosing this role on his own. He is affectionate and actually hugs with his forepaws when embraced. he is a ham. Hozho,his sister is more refined,quiet,a little wilder feeling. She has a way of bowing her head and gentlly nudging one to communicate her feelings. She runs the fastest and cuts corners like a western quarter horse. The 2 males tumble over each other trying to keep up with her. The youngest, Naga, of the more northern line is a beauty...very fox like with tawny coat and silver eyes. He is a jewel. Alert, independent ,somewhat cautious. He is a head turner. His markings are beautiful and disposition very companiable but cautious. They are all good with people. A bit exciteable with other dogs but learning as they mature. The 2 eldest take to the leash easily. The youngest really hates his collar and leash. perhaps this will change. They enjoy the woods immensely and have had run ins with the porcupines several times this spring. My walks are wonder filled with them alongside. I can't really imagine life without them at this point. I feel they have enhanced my life tremendously. Bravo to Kim and Arlene for sharing their clan with us!
Suzy Bennett, Andes, N.Y.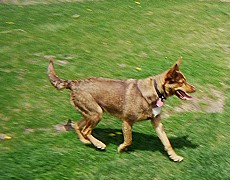 Kim - We were down visiting relatives in NM recently & came across what looks like our A.I.Dogs that you called Black Devil Dogs, as they used to call them. The one we saw wouldn't come to us of coarse but unbelievable how it looked like our dogs
- Jane Hobart, Mass

HI KIM- THIS IS MIKE HALDEMAN FROM PA.-CHEROKEE IS 10 MONTHS OLD NOW AND I JUST HAD HIM TO THE VET TODAY TO GET A LYMES DISEASE SHOT AS IT IS ON THE UP SWING IN ANIMALS IN THE AREA-THE VET MADE A REMARK ABOUT HOW HEALTHY CHEROKEE IS AND SUCH A GREAT LOOKING DOG-BUT I GET THAT FROM EVERYONE HE MEETS-BUT THE BOTTOM LINE IS THAT THESE DOGS ARE IN SUCH GREAT SHAPE BECAUSE OF YOUR BACKGROUND WITH THESE DOGS AND I WANT TO THANK YOU FOR THE WEBSITE WARNING ABOUT BREEDERS THAT DON'T CARE ABOUT THESE ANIMALS. CHEROKEE IS A VERY SPECIAL COMPANION-SUCH AN INTELLIGENT DOG- I AM GLAD I FOUND YOUR WEBSITE ABOUT A YEAR AGO AND WAS GIVEN THE CHANCE TO SHARE IN THE LIFE OF ONE OF THESE DOGS . THEY ARE TRULY UNIQUE AND I, AM AMAZED AT THINGS HE DOES. TAKE CARE AND KEEP UP THE GOOD WORK AS THIS BREED DESERVES IT.
-MIKE