Kim, Sorry I haven't contacted you since I picked up our pup from you. Sure enjoyed seeing all your dogs & learning all about our Native Dogs. I've been waiting to take a picture to register her, but she keeps changing color all the time. I've finally realized that this probably doesn't stop? Everyone here is just amazed by her personality & how smart she is, she is really good with our son they are real buddy's...........All the older Indians on the reservation here recognize what she is & are so happy to have them back here, they even have some old pictures that look just like her.............When I took her to her first puppy classes the trainer told me I might as well give up, as this wild little thing will never be tamed. BOY did we surprise her, out of 25 pups she did better in her training tests than all of them & is continuing to make them eat their words. I do have a little problem with recall when we are out in the bush, when she catches a track, but as you said at 1 year they test you. She at least always knows where she is in relationship to where I am. Watches me like a hawk, just can't stand not to fallow that bear scent to see where it went. --- We love this girl, & will try to get pictures & pending registration papers back to you soon, & we look forward to get on the IIDOBA chat group to do some bragging ........I talked to the A.I.Dog area rep., in Canada & we are going to try to do a gathering this summer, thanks so much for our A.I.Dog ...........Helm Johnson, Alaska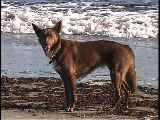 Kim.......I just wanted to thank you for Lucy! She is four years old already & it seems like just yesterday we picked her up. She was the cutest puppy ever made & is now a beautiful dog. Her movements are so graceful & athletic it's like watching a wild animal....and she flies too, all feet off the ground through the air to catch a ball....it's breathtaking to watch. She's also incredibly expressive. Her ears alone speak volumes,and so do her eyes,her body language & her verbal language..........But it's not all about looks, she's so smart & funny that my parents actually consider her to be at least 1/2 human. I really didn't understand what a thinking breed really was until I saw her ability to problem solve, premeditate "crimes" & understand very complex rules.; For an example we leave the cats food out & she knows she can't eat it, unless it's spilled on the floor......Also when we play ball with her she often adds twists to the game. which can really only be described as joking with us & making her own rules......................She has gone to work with David on construction sites since she was 41/2 months old. She was unsupervised & except for a few small incidents has been a perfect job dog. She protects the site from other dogs, greets people, entertains the crew & reminds David when it's time to go. She's great with kids & with the cats too....See you next time we visit in Oregon. Thanks again, Jane & David Hobart, Mass."


........................"I've been in contact with Kim La Flamme for many years now & we both agree on the only way to actually save a rare or endangered breed, wild or domestic; I'm a Biologist/zoologist & I work for zoo's throughout the world to help them with their own breeding programs to save rare & endangered species. Most of your endangered domestic animals are controlled by big brother registries that don't care about the long term future of their animals that they register or are in CHARGE of................ I completely agree with Mr.. La Flamme in his choice of the way he breeds his A.I.Dog breed. It has to be done in this manner for the future of any breed. Together we have shared a lot of new ideas & research & will continue to do so into the future. I also have a lot of respect for the IPDBA that he has chosen to register his breed with, they are also there to help preserve & protect rare breeds & give the mother breed clubs complete control of their individual breeds & breeding programs, & help with genetics education, unlike the big AKC type registries. This is really the only way to save a breed for the future. Instead of "the short term" inbreeding that these big registry's encourage for the quick popularity contests they put on.......for the short term .......There are now some great articles that are starting to "come out" on genetics & new research, I would take Kim's advise & do some research to become educated & informed of just what is happening to our animals on this planet by our own hands, both domestic & wild......... thanks for listening, just another concerned animal lover ............."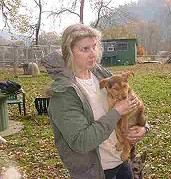 From Sarah Harrison, Certified A.I.Dog breeder in Wales
I have had the privilege of sharing the past 11 years with a breeding pair of American Indian dogs, Skye & Storm, & recently Thunder; a blue eyed female from their last litter. Traveling from great Britain in 1993 to meet the founder/trustee & Breeder, Kim La Flamme, after reading about the breed in "Dog World" magazine; now after 11 years I still marvel at them. The natural look, character, the expressive body language & high intelligence
On November, '03, I journeyed back again to visited Kim & family, was great to see Rogue (all grown up) the father of my dog Storm. I first saw him when he was just a young pup. A great deal of time & effort has been gone into bringing this breed of dog back from extinction. Thanks to Kim La Flamme, the breed has survived into the 21 century. I will say that this breed of dog is not for just anyone & that they do require "Tough Love", in other words with common sense & a firm but fair will, the dog will quickly learn what's expected of it, by firm verbal commands, tone of your voice & your own body language.
To those of you that already have an A.I.Dog, enjoy your fascinating charges & be proud that you can share your life with an animal with such history & health. - Have fun, love to all - Sarah Harrison - Wales

Dear Kim - Thank you for allowing me to have such a wonderful dog. I can't believe how smart they are, even as a puppy. Just after one day he cries to go outside to go to the bathroom. He's playing with his Teddy bear as I write this. I named him "Cherokee". I understand from Mike Foster his blue eyes could turn gray or yellow. everybody that comes into contact with him falls in love with him - Thanks, again for all your help -- Mike Haldeman, PA

Dear Kim,

I have given a lot of thought to how to thank you for the gift of the three American Indian dogs you have shared with me. Words only go so far. Let me say, however, that in my eyes, the work you have done to preserve this breed is to be respected and honored as sacred. These dogs are unlike any other I have ever encountered. An innate quality remains, as if something primordial hasn't been domesticated and commercialized out of them. At first glance this quality can be mistaken for wild and untamed, but with deeper consideration and observation is found to be pure awareness itself. It is clear that these dogs are remnants of another era, one when human beings shared a more harmonious relationship with the circle of Life.

As such these dogs are teachers, emissaries of a greater possibility. They are here to remind us how to be in balance, how to be finer, more genuine human beings. They demand respect, for themselves, but also for oneself. And this, I believe, is the essence of your 'tough love'. My ability to be pack leader is measured by my ability to embody the spirit of Love. It is only when I am unwilling to learn and wake up that I have trouble with the pups, for it is then that they loose respect for me, and perceive me as an incompetent leader.

I am truly sorry to see a few arrogant people who are unable to acknowledge their arrogance in this regard trying to sabotage other peoples chance to share the magic of the AID. I trust that your integrity and the fineness of the dogs themselves will outshine such ignorance.

I look forward to getting another pup soon, and continuing to share my journey with these amazing, exquisite beings.

The Elders must be proud of you.

Your Truly,

Johnny Shanker
Andes, New York